Hoku
From Wikipedia, the free encyclopedia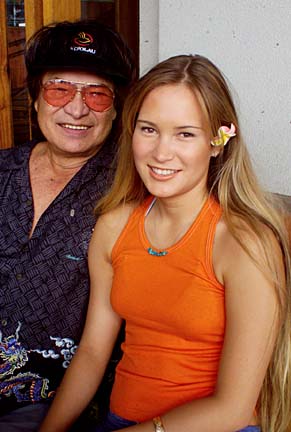 Hōkū Christian Ho (born June 10, 1981), known simply as Hoku, is an American musician, singer-songwriter, and actress. The daughter of noted Hawaiian entertainer, the late Don Ho, her most popular singles are "Another Dumb Blonde", "How Do I Feel" and "Perfect Day."
[edit]
Early life
Hoku, whose name means "star" in Hawaiian, was born on the island of Oʻahu in the state of Hawaiʻi, to Don Ho and Patti Swallie, who used to sing in his show, the seventh of Ho's ten children.[1] This union produced one other daughter, Kaimana Grace.[2] She is of European, Polynesian and Asian American ancestry: Chinese, Hawaiian, Portuguese, Dutch and German descent on her father's side and Hawaiian and Caucasian descent on her mother's side.
Hoku attended La Pietra: Hawaiʻi School for Girls in Honolulu, Hawaiʻi and briefly studied business at Point Loma Nazarene University[3] in San Diego, California, but left during her first semester.
[edit]
1999-2001
Hoku's debut single "Another Dumb Blonde", which was certified Gold, appeared on the soundtrack to the movie Snow Day. She later appeared on a Nickelodeon special with many other stars, such as Britney Spears, 'N Sync, Sean Combs, and Aaron Carter. She also performed as a top billing performer in all of the Radio Disney Live! 2001 World Tour concerts across the United States.
In 2000, she released her self-titled, debut album. In 2001 she recorded the song "Perfect Day", which was used as the theme song to the feature film Legally Blonde. This song was featured in both JCPenney and Sandals Resorts commercials.
Hoku soon parted ways with her label, Geffen Records, because she didn't want the image that the company created for her, which she felt went against her beliefs.[citation needed] Hoku decided to take a break from the music industry and was not heard from for five years.
[edit]
2006-present
Hoku now lives in Orange County, California, with her husband Jeremy Clements whom she married in 1999[4]. She often returned to Hawaii to perform with her father at his Don Ho Show at the Waikīkī Beachcomber Hotel in Honolulu. He died in 2007.
Her song "Perfect Day" gained recognition recently when J.C. Penney and Sandals Resorts used the song for a series of television advertisements.
With her husband, Hoku formed independent label Ola Vista Records in 2006; shortly thereafter it released Listen Up, a 5-song EP to the iTunes Store. Song titles included "If You Don't Want My Love", "Saturday Morning", "All I Need", "Closer", and "Listen Up".
In a blog post to her MySpace profile in July 2008 [5], Hoku stated that she had recorded many more songs than could be released on Listen Up and that additional tracks would be released on a future as-yet-untitled EP. As of January 2010, no further information has been released on her official sites.
[edit]
Discography
[edit]
Albums
[edit]
Singles
[edit]
Soundtrack appearances
[edit]
Filmography
[edit]
Television
[edit]
Commercials
| Product | Notes |
| --- | --- |
| Twix candy bar | As singer |
| Bongo clothing | As model/singer |
[edit]
External links